Enlightening through TV : USCAR Public Diplomacy, 1950~1972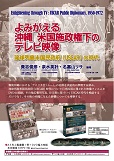 This book is an attempt to empirically clarify the merits and demerits of the "America Yu (アメリカ世, the "American era" in Okinawan)" in postwar Okinawa.
The DVD includes films left in both Japan and the United States during the time of the United States Civil Administration of the Ryukyu Islands (USCAR).
Not only verifying the USCAR era based on other public relations photographs and official documents, the subsequent impact on Okinawa would be considered.
◆ Book Edition / DVD Edition Planning and supervision :
Kishi Toshihiko ―Professor, Kyoto University
Sensui Hidekazu ―Professor, Kanagawa University
Risa Nakayama ― Associate Professor, Wako University
◆ Recommender :
Chosei Kabira ―Professor Emeritus, Showa Women's University, Former Okinawa Broadcasting Corporation OHK Chairman / NHK Executive Manager
Masao Gabe ―Professor Emeritus, Yamanashi Gakuin University
◆ Price : A5 size book + DVD (6 discs/set) ¥30,000  ISBN978-4-8350-8332-2
●Book and DVD can be sold separately.
▼ Book price ¥5,000  ISBN978-4-8350-8333-9
▼ DVD(6 discs/set) price ¥25,000  ISBN978-4-8350-8334-6
★ DVD Sample(https://youtu.be/DZw-7hvL7R4)

カタログダウンロード